Racing For Good Virtual Grand Prix Charities
The Virtual Grand Prix series has provided us with a lot of fun in its two iterations. In the first half of 2020, the digital racing was a welcome distraction and source of entertainment for people as the Coronavirus pandemic brought the way of life for most people to a relative standstill.
In 2021 though, the element of lending a helping hands is much more direct. The series revolves around a charity prize pot of $100,000, which is split between the nine competing teams based on their finishing positions after the three races. Each of them will receive a guaranteed substantial donation, with the highest-scorers getting a bigger portion to go to their chosen charity.
After our first two races, Haas are out in front with 57 points, thanks to excellent results for Fittipaldi brothers Enzo and Pietro. FDA Esports line up in second with 42 points, with Red Bull in third, scoring 39 points in the first two races.
The three teams look likely to be the contenders for the biggest slice of the charity pie. So where will the funds be helping out? Let's take a look at the chosen causes for each team.
RED BULL AND ALPHATAURI
Chosen charity: Wings For Life Spinal Cord Research
If you've been part of the Formula 1 fandom for a few years now, Wings For Life is likely a name you've heard before. Red Bull Racing are closely aligned with the non-profit charity, founded in Salzburg in 2004 by Dietrich Mateschitz, founder of Red Bull itself. Wings For Life funds vital medical research in the area of spinal cord injuries and paraplegia, with a goal of ultimately finding a cure for spinal cord injuries.
Red Bull's interwoven history with the foundation has been deep-rooted in Formula 1, with the team running special liveries on three occasions to raise funds and awareness. At the 2007 British Grand Prix, Red Bull cars were adorned with thousands of fan photos, giving the cars a distinctive camouflage pattern that made for a truly unique look on-track. Five years later, they did it again at Silverstone, this time wrapping all those generous fans under a translucent layer of blue. The effect? An incredible digital shimmer, which looked exceptional in the pouring rain, and also raised thousands for Wings For Life.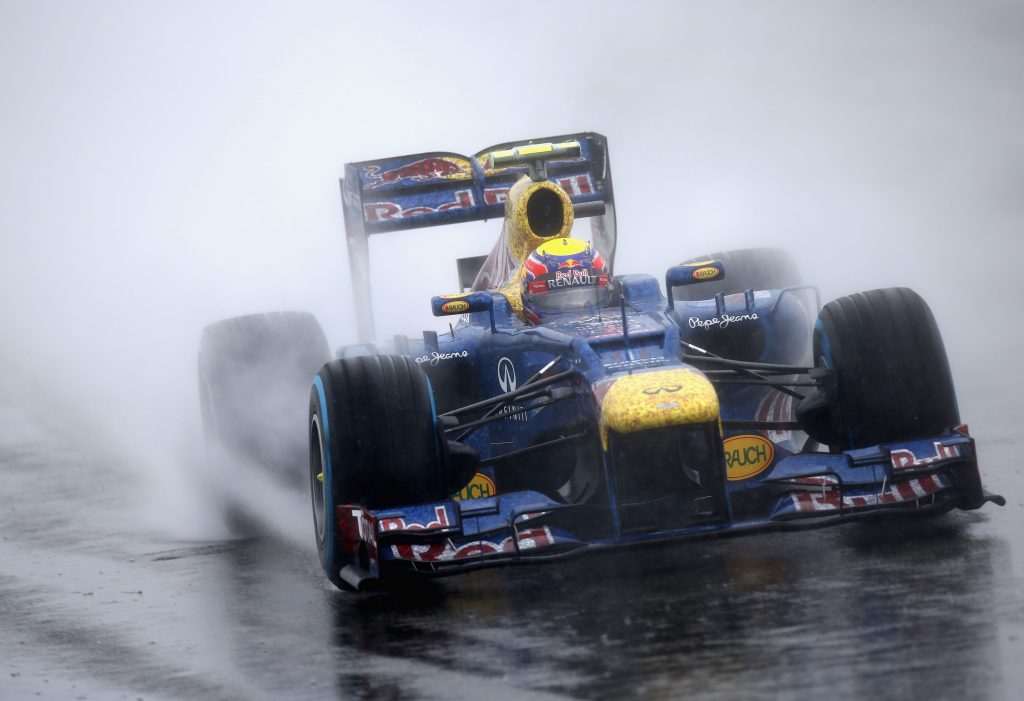 Webber splashes around Silverstone in the special livery
Perhaps the most notable – or infamous – occasion was David Coulthard's swansong race in F1, back in 2008. FIA rules prohibit cars from running separate liveries, with the cars essentially required to be identical. But in the interest of goodwill, this was waived at the 2008 Brazilian Grand Prix, when Wings For Life Ambassador DC ran a striking white-liveried RB4. Qualifying mid-pack, the Scot was unfortunately taken out of the race after just two corners, but the impact of the exposure meant that while the history books will show a DNF for Coulthard, it was still a win for the charity.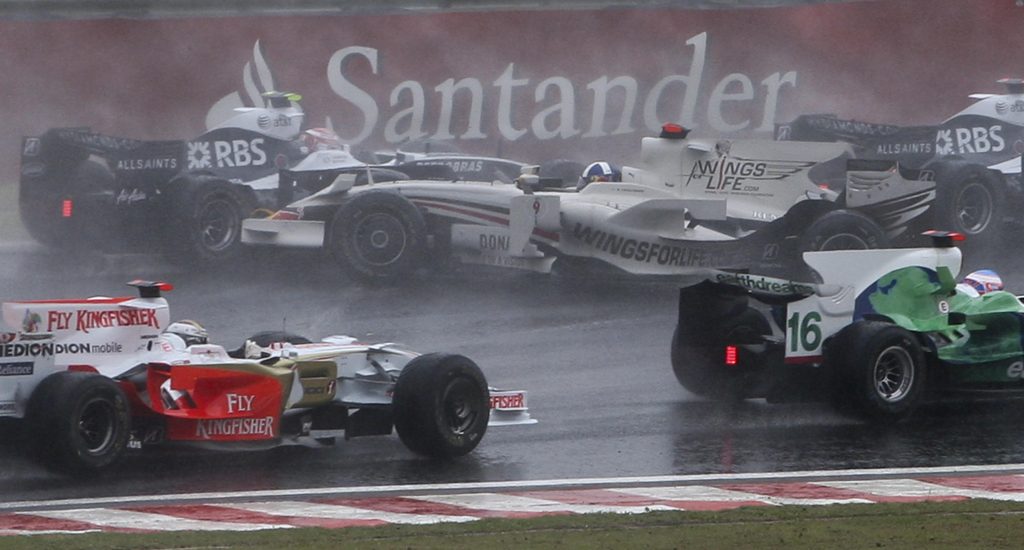 Not the finale DC deserved
With Wings For Life Ambassador and Reserve Driver Alex Albon taking home solid points in the first two races, they look likely to be getting a sizeable donation at the end of the series. Naturally, Scuderia AlphaTauri are also aligned with Wings, and will receive funds there too.
ALPINE
Chosen charity: The Talent Tap
How many people do you know with heaps of talent, a degree, diploma, or other qualification, that have struggled to break into the working world? The reality of the job market is tough. You need experience for jobs, but you need a job to gain the experience. It's a vicious circle that can leave people frustrated and disappointed.
The Talent Tap looks to change that, providing its members and alumni with access to opportunities that they may not otherwise be able to reach. It's a two-way street too, affording employers a fresh cohort of talented and determined people just ready to hit the ground running.
Alpine is a team with a burgeoning young driver academy. The Alpine Academy comprises of Formula 2 racer-winners Christian Lundgaard and Guanyu Zhou, Formula 3 champion Oscar Piastri, and Caio Collet & Victor Martins, who will make their F3 debuts in 2021 as team mates at MP Motorsport. Having such a prodigious group of racers ready to make the step up perfectly emphasises Alpine's endeavour to support young people with their ambitions of going further, and so The Talent Tap is the ideal conduit through which to do some good.
ALFA ROMEO AND FERRARI DRIVER ACADEMY
Chosen charity: Save the Children Switzerland / Global
Both Alfa Romeo and Ferrari Driver Academy have selected Save The Children as their charity, albeit with Alfa's focus on the Switzerland locale, with the Formula 1 team based in Hinwil.
Alfa Romeo Racing, operated by Sauber Group, are partnered with Save The Children, a charity which looks to give children the support they need in life, whether it be in everyday life, or extreme times of crisis or hardship, such as war, or environmental disasters. Children are the future, and this charity won't rest until every child has the right to education, health care, and economic opportunities.
Ferrari Driver Academy's proceeds will also go to Save The Children. Ferrari's road car company held a charity auction at the tail end of 2020, where in collaboration with RM Sotheby's they auctioned an ultra-luxurious Ferrari Roma, raising $750,000 for Save The Children's vital education work in the USA. With FDA's link-up with the charity for the Virtual Grand Prix, the bond with the Maranello-based entity continues.
HAAS
Chosen charity: Grand Prix Trust
Formula 1 is a hell of a lot of fun. But for the people on the road constantly, it's a huge task as well. The travelling circus spans most of the year, with mechanics, roadies, factory staff, catering, media and plenty of other personnel working crazy hours to bring the greatest spectacle on earth to life. The Trust helps people in need who no longer work in Formula 1, helping to cover medical expenses, bereavement costs, and other things they may need financial support with.
For over 3 decades the Grand Prix Trust has provided support for Formula 1's unsung heroes helping team personnel to put their lives back on track when things go wrong. Founded by Sir Jackie Stewart in the 1980s, the Trust is now under the stewartship (if you'll pardon the pun) or former F1 driver and Sky Sports F1 commentator, Martin Brundle.
The Grand Prix Trust aims to helps anyone who has worked in Formula 1 for at least two years, whether in recent times, or even as long ago as the 1960s. Back in 2018, Red Bull Racing Team Principal Christian Horner drove an Aston Martin Vantage in a two-wheel stunt as a fundraising mission for the Trust. Red Bull may be jealous of Haas' championship-leading credentials thus far in the Virtual Grand Prix series, but we're willing to be that seeing the funds go to another charity close to them is a pretty good consolation prize.
McLAREN
Chosen charity: Mind
McLaren's parity with Mind goes back to July 2020, when the two entities combined as F1 launched its #WeRaceAsOne campaign. No one could have foreseen the pandemic and its global effects, and the time in isolation has forced people into situations they may never have faced. Mental health, for millions, has taken an enormous hit. And so, in allying with Mind, McLaren are putting mental health first.
Mind was founded back in 1946 as the National Association for Mental Health (NAMH) and offers advice to people with mental health problems, as well as spotlighting them and helping to raise awareness for these often-hidden issues and illnesses that hundreds of millions of people grapple with on a daily basis.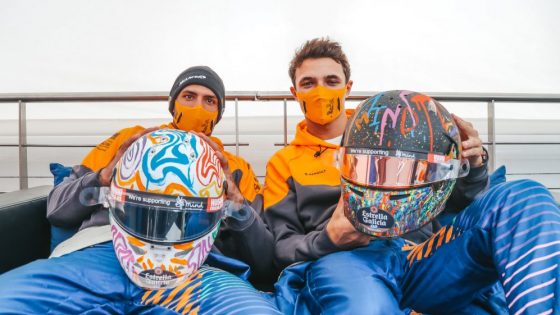 Carlos and Lando with their special replicas at the Nurburgring
McLaren have raised thousands for Mind since their partnership began in 2020. The most visual representation of their involvement was when drivers Lando Norris and Carlos Sainz painted their own helmets at the 2020 British Grand Prix in August. The striking, psychodelic designs were auctioned off to fans, with more than £70,000 raised. Then in October at the Eifel Grand Prix, and to coincide with World Mental Health Day (October 10), the drivers sported replicas of those awesome patterns to once again spotlight the vital work of this charity.
MERCEDES
Chosen charity: Alzheimer's Research UK
Alzheimer's is the most common form of dementia, and is a progressive disease which causes memory loss, and impairs thinking skills. Mercedes have partnered with Alzheimer's Research UK, the leading dementia research charity in the UK, to raise money for this charity which helps to fund crucial research. Alzheimer's Research UK is the team's official charity partner for 2020-21, and you can contribute to their JustGiving campaign here.
Outside of Mercedes, Sir Jackie Stewart has helped fund vital research for Alzheimer's Research UK, partnering the charity with his own Race Against Dementia to donate £1.5M in 2019, to help exceptional researchers in the fight against dementia. The fact that JYS is on this list twice as a founder of two separate charities is testament to his pioneering nature, and his outstanding commitment to make the world a better place. He founded Race Against Dementia after his wife, Lady Helen Stewart, was diagnosed with frontotemporal dementia.
Mercedes didn't contest the second Virtual Grand Prix, but with a second-place finish for Stoffel Vandoorne in the opening race, the Silver Arrows have a healthy bunch of points, and could be in with a shout of making the top three in the standings after the third race.
WILLIAMS
Chosen charity: Spinal Injury Association (SIA)
To call Sir Frank Williams a legend would be a disservice to all he has achieved. A true titan of motorsport, Williams, and his eponymous team ruled Formula 1 for much of the 1980s and 90s. And most of this, despite the fact that Williams himself has been bound to a wheelchair since 1986. We could continue, but we think his daughter, SIA Ambassador, and former Deputy Team Principal of Williams, Claire, put it best on the SIA website:
"In 1986 my father, Sir Frank Williams, sustained a spinal cord injury. With the help of SIA and a strong support network he managed to rebuild his life and return to work as the Founder and Team Principal of the Williams F1 Team. The success he has managed to achieve in F1 since his injury has been inspirational to me and the sport as a whole, and Williams continues to support SIA as we owe the charity a great debt of gratitude."
Though the Williams family stepped away from the team in mid-2020, the presence of Sir Frank, Claire, and the rest of the family dynasty is still felt strongly, and so the team's choice of charity is one embedded in its history. George Russell missed out on the first race in Austria, but returned in classic style in Silverstone to take victory, with team mate Nicholas Latifi also scoring points. Their haul in the first two races should give them a great base from which to challenge in the final race.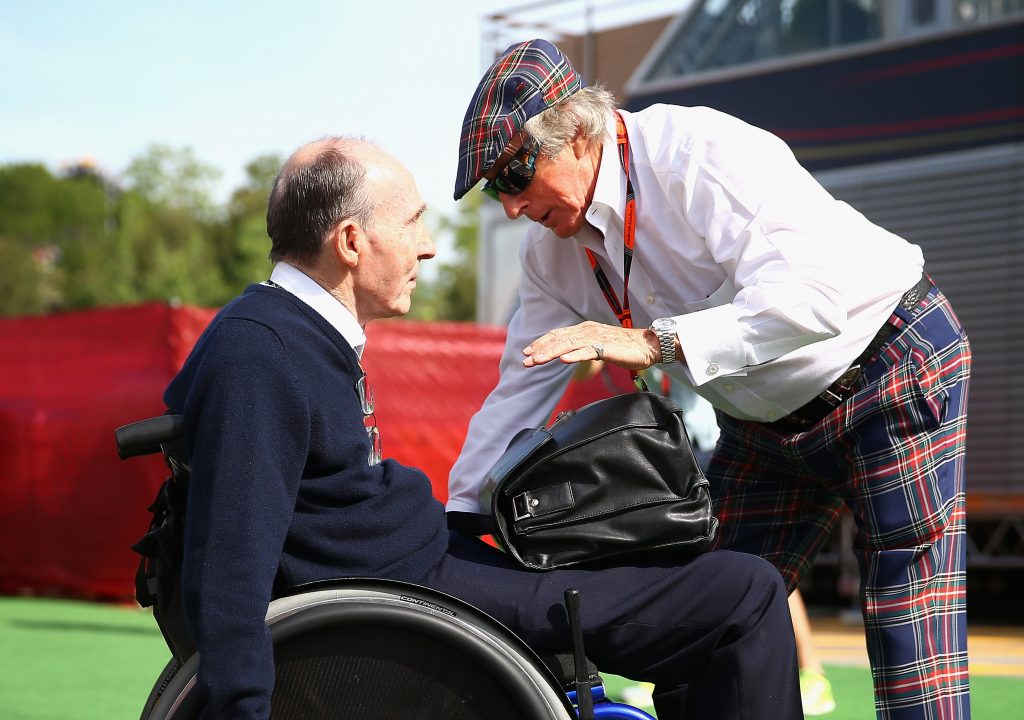 F1 Knights Frank Williams and Jackie Stewart have made amazing charitable contributions through the years.
The final Virtual Grand Prix gets under way on Sunday, February 14. Tune in to the action from 18:00 GMT / 19:00 CET to see who emerges victorious, and which of the teams will be taking home the biggest share of the charity winnings. See you there!
The post Racing For Good: Virtual Grand Prix Charities appeared first on F1Esports News.
Read More